Singapore Sling
Singapore Sling in a hurricane glass
Singapore Sling in a hurricane glass with orange cherry decoration, an eye-catching option to present that delicious gin cocktail.
Singapore Sling in a unbowed long-drink glass
Long-drink glass are the most common way of presenting Singapore Sling.
Singapore Sling in an concave long-drink glass
All kind of long-drink glasses are ideal for Singapore Sling.
Page information
Uploading date:
Number of views:
29836
Number of comments:
0
Details
Alcohol content:
12 % Vol
Type:
Longdrink
Summer
Everybody likes it
Taste:
Refreshing
Light
Carbonic
Harmonious
Palatable
Preparation time:
Country of origin:
Singapore
Event:
After Sport
After Work
Afternoon cocktail
Description
Singapore Sling is a refreshing summer cocktail. This Fizz consists of gin, cherry brandy, lemon juice and mineral water. A harmonic mixture for the warm season.
The taste is characterised by gin and cherry brandy. Mineral water makes it palatable and light, a mixture that goes down well with almost everybody.
An orange and cherry garnish fits perfectly well with the reddish colour of the liquid. You can serve it discreet in long drink glasses or a bit more conspicuous in a hurricane glass.
A good choice as a refreshment in summer, in the afternoon or early evening.
Ingredients
3⁄4
fl. oz.
Lemon juice
  (or 2 cl Lime juice)
1⁄2
cup
Crushed Ice
  (or 5 pcs Ice cubes)
Scale ingredients to
servings
Measuring unit
Preparation
Method: Shaking with ice cubes
Bar equipment: Shaker
1.
Decoration
An orange half slice with a cherry on top fits well with Singapore Sling. For that, cut off a slice of orange and make a short cut in the middle. Then take a toothpick and stick a cherry on top. Place it all together on the glass rim.
2.
Shaking
Place gin, cherry brandy, lime juice and sugar syrup along with 2-3 ice cubes in your cocktail shaker and shake it hard.
3.
Serving
Finally, fill half of your glass with crushed ice and strain the mixture into it. Serve it ice cold with a black straw.
Tips
Fine adjustment
Decoration / Serving
Singapore Sling in long-drink and hurricane glasses.
Long-drink and hurricane glasses are most appropiate for Singapore Sling. Cocktail cherry and orange garnish is ideal for Singapore Sling. A straw is a great help to drink it, because of the decoration and the crushed ice, black ones are most suitable.
A good presentation and an adequate environment are as important as the taste of cocktails. Use our decoration tool to test different decorations and glasses.
Decoration tool
Try out different decorations and glasses with our decoration-tool. Choose the desired options on the right side and your picture will be displayed immediately. Decorations and glasses which we recommend are labeled, but also all "not common" options are available. You can save created pictures for the pdf-download or your menucard.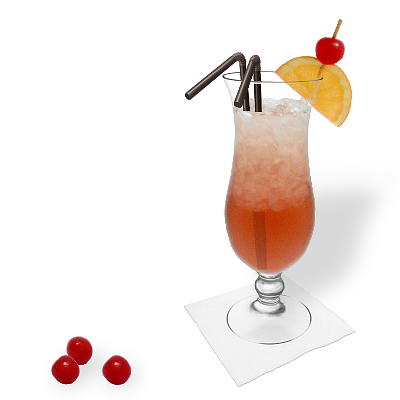 Classical decorations
Options
What's the best serving suggestion for Singapore Sling?
Glass
Highly recommended
Long-­drink glass bellied
Long-­drink glass concave
Long-­drink glass unbowed
Long-­drink glass creative
Not common
Sugar/Salt rim
Fruity decorations
Highly recommended
Skewer Orange-­Cherry (half slice)
Skewer Orange-­Cherry (slice)
Recommended
Pine­apple heart and cherry
Pine­apple with cherry on side
Pine­apple, Kiwi and cherry
Not common
Straws
Highly recommended
Recommended
Not common
Highly recommended
Recommended
Not common
Stirring staff
Others
Recommended
Not common
Pin­wheel silvery­-golden
Coaster
Highly recommended
Recommended
Not common
Environment
Highly recommended
Orange, lemon and cherry 1
Orange, lemon and cherry 2
Recommended
Not common
Grape­fruit, orange and lemon
Pepper, salt and tabasco 1
Pepper, salt and tabasco 2
Pepper, salt and tabasco 3
Background
Options
Your rating
Comments
Be the first person to write a comment for this drink.
Your Comment
Please help others with your experiences and write a comment.
We will check you comment before publishing it and reserve the right to delete inappropriate comments.
Similar Drinks
Mai Tai
Pimm's No. 1
Sex on the Beach