Frozen Watermelon Margarita
Frozen Watermelon Margarita in a Margarita glass
Frozen Watermelon Margarita served in a Margarita glass with a watermelon triangle and sugar or salt rim, the common way of presenting that fruity tequila cocktail.
Frozen Watermelon Margarita in a Martini glass
Martini glasses with their long and fine bezel are ideal for sugar or salt rims.
Frozen Watermelon Margarita in a cocktail saucer
Another great option for Frozen Watermelon Margarita, a cocktail saucer.
Page information
Uploading date:
Number of views:
27379
Number of comments:
0
Description
Everybody that doesn't know Frozen Watermelon Margarita and likes Frozen Margaritas has to try out this delicious tequila cocktail. Refreshing, sweet, fruity and ice cold is the best classification taste-wise. A special pink reddish colour from the watermelon as well as its flavour combined with a note of tequila make watermelon margarita an extraordinary cocktail experience. The exception proves the rule, there was never a complain from women about that drink.
With triple sec and lemon juice refined tequila is blended with fresh watermelon, syrup or liqueur. The result is an ice cold summer cocktail with a consistency like sorbet. We recommend frozen watermelon margarita as an afternoon or evening drink for hot days.
In a blender multiple portions can be prepared at the same time, that's why we recommend it for many people.
Ingredients
1⁄2
fl. oz.
Lemon juice
  (or Lime juice)
1
cup
Crushed Ice
  (or 5 pcs Ice cubes)
With Fresh Watermelon (standard)
Scale ingredients to
servings
Measuring unit
Please participate!
Which one is the best recipe variation?
Preparation
Method: Blending with ice
Bar equipment: Blender
1.
Sugar or salt rim
A crusta looks really great and complements Frozen Watermelon Margarita perfectly. With a sugar or salt rim it's best practise to start preparing the glasses before you actually begin mixing the drink.
2.
Watermelon decoration
We recommend a piece of watermelon for decoration. So, cut off a chunk of watermelon , make a vertical cut in the middle and place it on the glass rim.
3.
Preparation of the watermelon
Go ahead with the watermelon, remove the peel and cut it down. To prepare the whole watermelon straight after purchase and putting it into a freezer has the advantage of having it conserved and the recipe variation "with frozen watermelon" tastes even more fruitier.
4.
Blending
Place the watermelon chunks, tequila, triple sec, lemon juice and sugar syrup in a blender along with a glass of crushed ice and mix it for 30-60 seconds on maximum power. Your goal is a homogeneous and viscid liquid. With ice cubes you have to blend longer to avoid remaining ice rocks.
5.
Serving
Finally, pour the mixture into the decorated glass and serve it ice cold.
Sugar or salt rim?
7 Participants
Survey
Sugar or salt rim, what is your favourite for Frozen Watermelon Margarita?
Sugar rim (57%)
Salt rim (29%)
Without (14%)
Do you like salt rims?
Do you like sugar rims?
Our survey shows that there are some people out there preferring a salt rim and for most of those a sugar rim is not a problem. On the other hand, most of those favouring a sugar crusta don´t like Frozen Watermelon Margarita with a salt rim. Either way, try it out or play safe and serve it with a sugar rim.
It's an American habit to make the crusta only on one half of the rim. Like that you could prepare one half with sugar and the other with salt. Usually with this technique, you leave one half empty that it's possible to drink it without crusta.
In our opinion an entyre custa looks better, tastes better and sticks better to the glass. A straw can help for those with an aversion against crustas.
Tips
Fine adjustment
Decoration / Serving
Indeed wine glasses look great, but the edge is a bit too short for a long lasting sugar or salt rim.
Margarita, Martini or cocktail glass are most appropiate for Frozen Watermelon Margarita. Present it with crusta and a piece of watermelon.
A good presentation and an adequate environment are as important as the taste of cocktails. Use our decoration tool to test different decorations and glasses.
Decoration tool
Try out different decorations and glasses with our decoration-tool. Choose the desired options on the right side and your picture will be displayed immediately. Decorations and glasses which we recommend are labeled, but also all "not common" options are available. You can save created pictures for the pdf-download or your menucard.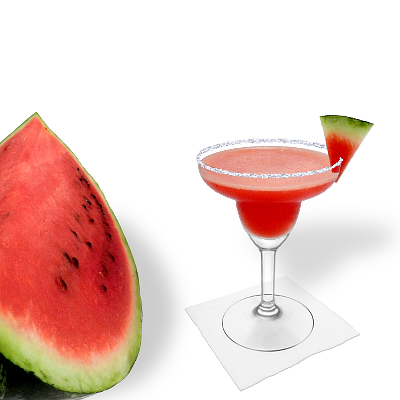 Classical decorations
Options
What's the best serving suggestion for Frozen Watermelon Margarita?
Glass
Highly recommended
Recommended
Not common
Sugar/Salt rim
Fruity decorations
Highly recommended
Recommended
Not common
Pine­apple heart and cherry
Pine­apple with cherry on side
Pine­apple, Kiwi and cherry
Skewer Orange-­Cherry (half slice)
Skewer Orange-­Cherry (slice)
Straws
Stirring staff
Others
Not common
Pin­wheel silvery­-golden
Coaster
Highly recommended
Recommended
Not common
Environment
Highly recommended
Not common
Grape­fruit, orange and lemon
Orange, lemon and cherry 1
Orange, lemon and cherry 2
Pepper, salt and tabasco 1
Pepper, salt and tabasco 2
Pepper, salt and tabasco 3
Background
Options
Your rating
Comments
Be the first person to write a comment for this drink.
Your Comment
Please help others with your experiences and write a comment.
We will check you comment before publishing it and reserve the right to delete inappropriate comments.