Cosmopolitan
Cosmopolitan in a Martini glass
Cosmopolitan served in a Martini glass, the most common way of presenting that delicious vodka drink.
Cosmopolitan in a cocktail glass
Another good option for Cosmopolitan are cocktail glasses.
Cosmopolitan in a Cancun glass
Rather unusual but good looking option for Cosmopolitan.
Page information
Uploading date:
Number of views:
29275
Number of comments:
0
Details
Alcohol content:
20 % Vol
Type:
Classic
Shortdrink
Trendy
Taste:
Sour
Refreshing
Light
Preparation time:
Country of origin:
United States
Event:
After Dinner
Sunset
Drinking party
Good night Drink
Description
Cosmopolitan is a modern and fascinating vodka cocktail with a wonderful pink colour. It consists of vodka, triple sec, cranberry and lime juice, a faintly sour and refreshing mixture. Like with many other vodka drinks, be careful, even if you hardly notice, it contains about 20 % of alcohol.
The powerful pink and slightly dulled colour comes from the cranberry juice. The transparent spirits brighten it up and lime juice causes a soft dull. Especially if you serve Cosmopolitan in a martini glass with lime zest you will attract a lot of attention.
Cosmopolitan is a delicious cocktail for many occasions that really has what it takes.
Ingredients
11⁄2
fl. oz.
Cranberry juice
3⁄8
fl. oz.
Lime juice
  (or 1 cl Lemon juice)
Scale ingredients to
servings
Measuring unit
Preparation
Method: Shaking with ice cubes
Bar equipment: Shaker
1.
Shaking
Place Vodka, cranberry juice, triple sec and lime juice along with 2-3 ice cubes in a cocktail shaker and shake it hard.
2.
Serving
Now strain it into your glass, add some lemon or lime zest and serve it ice cold.
Tips
Fine adjustment
Decoration / Serving
Martini glasses are the best option for Cosmopolitan.
Martini glasses are most appropiate for Cosmopolitan. Cocktail or cancun glasses are best alternatives. A lemon or lime zest belongs into the drink. An additional lime slice on top of the glass looks good but it's not a requirement.
A good presentation and an adequate environment are as important as the taste of cocktails. Use our decoration tool to test different decorations and glasses.
Decoration tool
Try out different decorations and glasses with our decoration-tool. Choose the desired options on the right side and your picture will be displayed immediately. Decorations and glasses which we recommend are labeled, but also all "not common" options are available. You can save created pictures for the pdf-download or your menucard.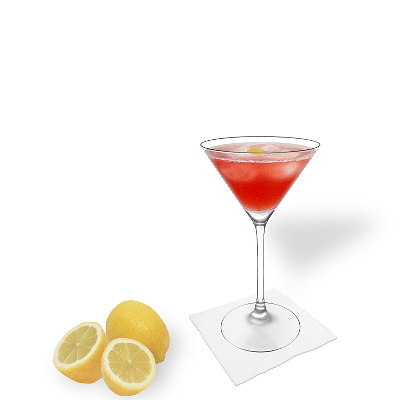 Classical decorations
Options
What's the best serving suggestion for Cosmopolitan?
Glass
Highly recommended
Not common
Sugar/Salt rim
Fruity decorations
Highly recommended
Recommended
Not common
Pine­apple heart and cherry
Pine­apple with cherry on side
Pine­apple, Kiwi and cherry
Skewer Orange-­Cherry (half slice)
Skewer Orange-­Cherry (slice)
Straws
Stirring staff
Others
Not common
Pin­wheel silvery­-golden
Coaster
Highly recommended
Not common
Environment
Highly recommended
Recommended
Not common
Grape­fruit, orange and lemon
Orange, lemon and cherry 1
Orange, lemon and cherry 2
Pepper, salt and tabasco 1
Pepper, salt and tabasco 2
Pepper, salt and tabasco 3
Background
Options
Your rating
Comments
Be the first person to write a comment for this drink.
Your Comment
Please help others with your experiences and write a comment.
We will check you comment before publishing it and reserve the right to delete inappropriate comments.
Similar Drinks
Manhattan
Amaretto Sour
Whiskey Sour