Caipirissima
Caipirissima in a whiskey glass
Caipirissima is Caipirinha with with rum instead of Cachaša.
Caipirissima in a small Gibraltar glass
Gibraltar glasses are very resistant and therefore ideal for Caipirissima.
Caipirissima in a big Gibraltar glass
Caipirissima is a tasty summer cocktail.
Page information
Uploading date:
Number of views:
31821
Number of comments:
1
Description
Caipirissima is Caipirinha with white rum instead of Cachaša. In Latin America they produce a lot of rum, it was a good idea to create a Caipirinha variation with it. Caipirissima consists of white rum, limes, cane sugar and a bunch of crushed ice. It tastes very similar to Caipirinha, a sour mixture with a lot of alcohol and a crunching finish. Entertainment is always provided, most people love to stir and play around with the straws. The rattling of the ice provides a pleasant atmosphere.
In Brazil they prepare Caipirissima with white cane sugar. Brown cane sugar passes less cleaning steps during production and contains therefore additional flavourings. Caipirissima tastes at least as good with brown cane sugar then with white one. More important is the grain size, the bigger the crunchier, many people like that.
You should use untreated limes. Otherwise, wash treated limes under hot water and rob them dry. That helps a lot to reduce the amount of the poisonous pesticides that are possibly deposited on top of the lime peel.
A great choice in summer, as an alternitve to Caipirinha. With hot temperatures Caipirissima always becomes a hit, independent of your guests gender, taste and age. Caipirissima always goes down well with everybody.
Ingredients
Scale ingredients to
servings
Measuring unit
Please participate!
Which one is the best recipe variation?
Preparation
Method: Smashing and compound
Bar equipment: Pestle
1.
Muddeling the lime
Start with cutting the washed lime into eight pieces and put them into a resistant thick-walled glass (Gibraltar glasses are perfect). Then use a mortar to muddle them a couple of times.
2.
Add withe rum and cane sugar
Add ron blanco and cane sugar, and stir it well with a spoon.
3.
Serving
Finally, fill up your glass with crushed ice and serve ice cold with 1-2 black straws.
Tips
Fine adjustment
Recipe Variations
Decoration / Serving
Caipirissimas look really great.
Caipirissima you serve in Gibraltar glasses or alternatively in tumbler glasses. You definitively have to add straws, black and buckling resistant ones are the best choice. Further decorations are unusual.
Decoration tool
Try out different decorations and glasses with our decoration-tool. Choose the desired options on the right side and your picture will be displayed immediately. Decorations and glasses which we recommend are labeled, but also all "not common" options are available. You can save created pictures for the pdf-download or your menucard.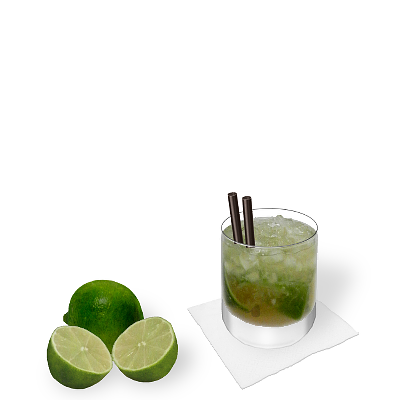 Classical decorations
Options
What's the best serving suggestion for Caipirissima?
Glass
Highly recommended
Recommended
Not common
Long-­drink glass unbowed
Long-­drink glass creative
Long-­drink glass bellied
Long-­drink glass concave
Sugar/Salt rim
Fruity decorations
Not common
Pine­apple heart and cherry
Pine­apple with cherry on side
Pine­apple, Kiwi and cherry
Skewer Orange-­Cherry (half slice)
Skewer Orange-­Cherry (slice)
Straws
Highly recommended
Recommended
Not common
Highly recommended
Recommended
Not common
Stirring staff
Others
Not common
Pin­wheel silvery­-golden
Coaster
Highly recommended
Recommended
Not common
Environment
Highly recommended
Recommended
Not common
Grape­fruit, orange and lemon
Orange, lemon and cherry 1
Orange, lemon and cherry 2
Pepper, salt and tabasco 1
Pepper, salt and tabasco 2
Pepper, salt and tabasco 3
Background
Options
Your rating
Comments
Sort by:
0
0
Personally, I prefer Caipirinha with cachaca, but yesterday there was only white rum available and we were quite happy with the result.
Your Comment
Please help others with your experiences and write a comment.
We will check you comment before publishing it and reserve the right to delete inappropriate comments.
Similar Drinks
Long Island Ice Tea
Caipiroska
Mai Tai