Black Russian
Black Russian in a whiskey glass
Black Russian served in a whiskey glass, the common way of presenting that delicious winter cocktail.
Black Russian in a bellied tumbler glass
Tumbler glasses are best choice for Black Russian.
Black Russian in a tumbler type Gibraltar
Many different tumbler glasses are available.
Page information
Uploading date:
Number of views:
27607
Number of comments:
0
Details
Alcohol content:
35 % Vol
Type:
Dessert
Shortdrink
Winter
Preparation time:
Country of origin:
United States
Event:
Good night Drink
Mens only
Description
Black Russian is a vodka drink that is famous all around the world because of its white brother "White Russian". Coffee liqueur is the flavouring agent and vodka is responsible for the high alcohol content of about 35%. You can taste that it is a strong cocktail, one to drink in small sips, however, in a blind test no one would even roughly estimate the real amount of alcohol.
Coffee liqueur and vodka complements perfectly, mixed, the best characteristics of both spirits stand out. Coffee liqueur is pure quite sweet and the coffee flavour is barely enjoyable. Vodka, in fact a neutral spirit, has too much taste of ethanol for most people. The mixture has a delicious and only faintly sweetish taste of coffee and you aren't knocked down by the ethanol flavour.
Everybody who likes White Russian has to try out Black Russian. Leaving out cream or milk results in a way lighter drink. We recommend Black Russians after a meal instead of coffee, after dinner or if you can afford after lunch.
Ingredients
Scale ingredients to
servings
Measuring unit
Preparation
Method: Stirring with ice cubes
Bar equipment: None
1.
Stirring vodka with coffee liqueur
Place vodka and coffee liqueur in a glass with 3 ice cubes and stir it well. Serve it immediately ice cold.
Tips
Fine adjustment
Decoration / Serving
Black Russian in different glasses.
Tumbler glasses are most appropiate for Black Russian. Decorations are uncommon.
Decoration tool
Try out different decorations and glasses with our decoration-tool. Choose the desired options on the right side and your picture will be displayed immediately. Decorations and glasses which we recommend are labeled, but also all "not common" options are available. You can save created pictures for the pdf-download or your menucard.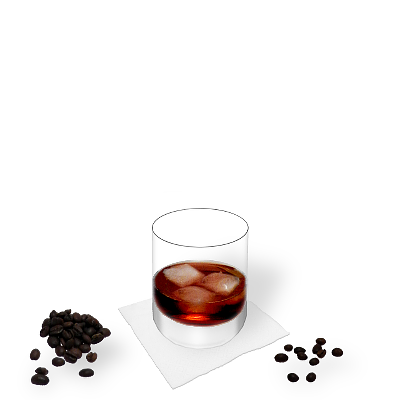 Classical decorations
Options
What's the best serving suggestion for Black Russian?
Glass
Highly recommended
Recommended
Not common
Sugar/Salt rim
Fruity decorations
Not common
Pine­apple heart and cherry
Pine­apple with cherry on side
Pine­apple, Kiwi and cherry
Skewer Orange-­Cherry (half slice)
Skewer Orange-­Cherry (slice)
Straws
Stirring staff
Others
Not common
Pin­wheel silvery­-golden
Coaster
Highly recommended
Recommended
Not common
Environment
Highly recommended
Not common
Grape­fruit, orange and lemon
Orange, lemon and cherry 1
Orange, lemon and cherry 2
Pepper, salt and tabasco 1
Pepper, salt and tabasco 2
Pepper, salt and tabasco 3
Background
Options
Your rating
Comments
Be the first person to write a comment for this drink.
Your Comment
Please help others with your experiences and write a comment.
We will check you comment before publishing it and reserve the right to delete inappropriate comments.
Similar Drinks
White Russian
Margarita
Strawberry Margarita