Berry Punch
Berry Punch in a red wine glass
Berry Punch served in a red wine glass, the common way of presenting that delicious party mixture.
Berry Punch in a white wine glass
All kind of wine glasses are ideal for Berry Punch.
Berry Punch in an white wine glass (Chardonnay)
Berry Punch is a fruity and palatable party drink.
Page information
Uploading date:
Number of views:
23357
Number of comments:
0
Details
Alcohol content:
12 % Vol
Type:
Party
Everybody likes it
Good Looking
For women
Taste:
Fruity
Sweet
Palatable
Light
Preparation time:
Country of origin:
Germany
Event:
Party
Women's night
Drinking party
Description
Berry Punch is a delicious drink for parties with many people. It's fresh berries, sparkling wine and white wine presented in a bowl, then ladled out into glasses. A good looking champagne cocktail that will ensure a great atmosphere for your next party.
Berry punch you can prepare with all kind of berries, like e.g. raspberries, blueberries, cherries, blackberries and red currant taste very good. Simply buy a deep frozen mixture with the berries of your choice if you don't have fresh ones available.
Best results are achieved with a dry sparkling wine (seco) and a sweet white wine. The longer you leave the berries in the bowl with white wine the fruitier becomes your punch. A bit of syrup produces a brilliant red colour and the punch becomes even fruitier and faintly sweetish. Everybody who prefers a dry punch leaves out the syrup.
A good choice for events with many people. It takes about 10-15 min to prepare a bowl which is enough for 10-30 people.
Ingredients
31⁄2
fl. oz.
Sparkling wine
Empty
With Berry Syrup (standard)
Scale ingredients to
servings
Measuring unit
Please participate!
Which one is the best recipe variation?
Preparation
Method: Compound
Bar equipment: None
1.
Mixing
Place washed berries in a bowl and first add berry syrup then white wine. Put it in the fridge until you use it.
2.
Serving
Shortly before your guests arrive you pour prechilled sparkling wine over it and serve it ice cold. You can chill the bowl with plastic ice or frozen berries without dilution. Lay out ready some teaspoons, it's a great help to eat the fruit pieces.
Tips
Fine adjustment
Decoration / Serving
Serve Berry Punch in wine glasses.
Wine glasses are most appropiate for Berry Punch. Lay out ready a teaspoon for everybody, it's a great help to eat the berries.
Decoration tool
Try out different decorations and glasses with our decoration-tool. Choose the desired options on the right side and your picture will be displayed immediately. Decorations and glasses which we recommend are labeled, but also all "not common" options are available. You can save created pictures for the pdf-download or your menucard.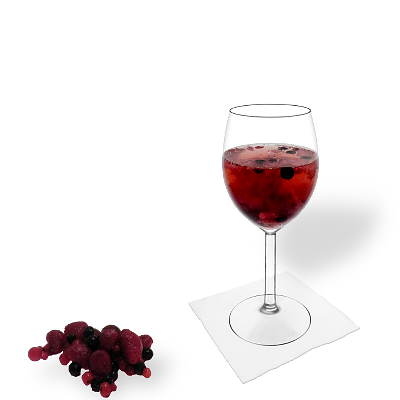 Classical decorations
Options
What's the best serving suggestion for Berry Punch?
Glass
Highly recommended
Recommended
White wine glass chardo­nnay
Not common
Cham­pagne glass imperiale
Sugar/Salt rim
Fruity decorations
Not common
Pine­apple heart and cherry
Pine­apple with cherry on side
Pine­apple, Kiwi and cherry
Skewer Orange-­Cherry (half slice)
Skewer Orange-­Cherry (slice)
Straws
Stirring staff
Others
Not common
Pin­wheel silvery­-golden
Coaster
Highly recommended
Recommended
Not common
Environment
Highly recommended
Recommended
Not common
Grape­fruit, orange and lemon
Orange, lemon and cherry 1
Orange, lemon and cherry 2
Pepper, salt and tabasco 1
Pepper, salt and tabasco 2
Pepper, salt and tabasco 3
Background
Options
Your rating
Comments
Be the first person to write a comment for this drink.
Your Comment
Please help others with your experiences and write a comment.
We will check you comment before publishing it and reserve the right to delete inappropriate comments.
Similar Drinks
Strawberry Punch
Aperol Spritz
Kir Royal